What is a sump pump and what does it do?
A sump pump is a pump used to remove water that has accumulated in a water-collecting sump basin, commonly found in the basements of homes. The water may enter via the perimeter drains of a basement waterproofing system, funneling into the basin or because of rain or natural ground water, if the basement is below the water table level.
Sump pumps are used where basement flooding happens regularly and to solve dampness where the water table is above the foundation of a home. Sump pumps send water away from a house to any place where it is no longer problematic, such as a municipal storm drain or a dry well.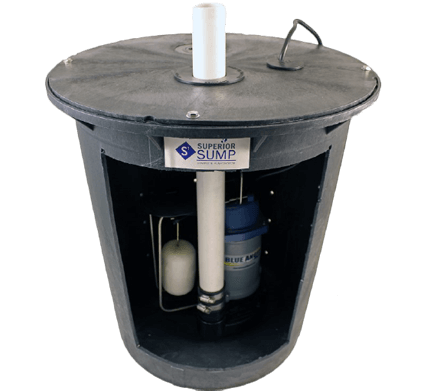 Superior Sump® Pumps
Superior Sump® pumps are based on years of research and feedback from basement waterproofing professionals. These specific pumps are not sold in retail stores or online. They offer cast iron pump housings and volutes, top suction filters which minimize clogging and resist Air Lock, solid stainless steel upper and lower float guard and guides for maximum protection, and a warranty that they stand behind and the homeowner can believe in.
Blue Angel® Sump Pumps
Blue Angel Pump Company was founded by Norbert Berghoff in 1928. Since its origin, the Blue Angel Pump Company has manufactured household-related products ranging from refrigerators to push lawn mowers. In the late 1940's, Blue Angel entered the water pump industry by acquiring the Zepher Pump Company, which was located in Decatur, Illinois. Today the Blue Angel brand of residential pumps provides sump, sewage, utility and other residential pumps known for durability and reliability.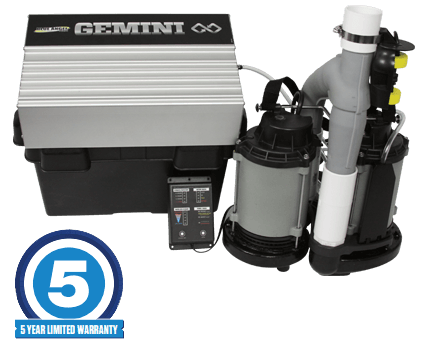 Gemini™ Waterproofing System
Gemini GSP50 Submersible Dual Sump Pump System is capable to withstand the worst basement and crawl space water problems! It features continues monitoring system transmitting data using WIFI or Local Link right to your mobile device. Remote display box displays hours of pumping power, battery health and charge, and current water level in the pit. The core of the Gemini System are two submersible pumps: ½ HP on the AC Primary and 1/3 HP on the DC Backup.
Triple Pump™ Pack
The Triple Pump™ Heavy Duty Pump Pack System is designed to protect your basement or crawl space against the haviest of water loads. It consists of three pump system comprised of 2 primary pumps and a battery back-up pump. Choice of pump brands is either Blue Angel or Wayne.