Do I need mold remediation?
Mold can grow whenever moisture, excessive humidity, and organic materials are present. Often times, this is the environment found inside of a basement or crawl space. It will be important for you to get this fungus removed from your home before it starts to cause other problems, including serious health conditions for you and your family. For more  information on mold, visit the Center for Disease Control and Prevention (CDC) website.
This dark green or black fungus has been known to cause everything from asthma attacks to skin rashes, and all types of serious health conditions in between that your family should never have to deal with. Aside from this, the mold can also make your home smell very musty and foul with an odor that can be described as dirty gym socks.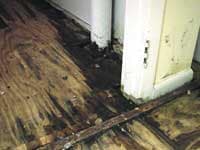 Dehumidifiers
To take care of the problem, we recommend getting the "ingredients" involved in the creation of the fungus removed from the home. This means that a waterproofing system needs to be installed in the basement, cracks need to be filled in walls and floors, crawl spaces need to be encapsulated and sealed off from the outside environment, and a dehumidifier needs to be installed to control the amount of moisture in the air. We make use of Aprilaire quality dehumidifiers which are automatic.
Aprilaire Basement Dehumidifier
Aprilaire Crawl Space Dehumidifier
The EnviroPro Way
Our multi-step approach to remedy the problem includes the physical removal of mold infested materials such as drywall and stored items damaged by mold, cleaning of mold from surfaces with HEPA vacuums and wet wiping, a treatment with a biocide, and encapsulation with a polymer coating which is resistant to mold growth. All of this work is performed under negative air pressure to insure other areas of the home are not contaminated by mold spores.
We provide mold remediation to South Jersey. View our service area for a full list of cities.
Sump Pump and Battery Back Up Installation